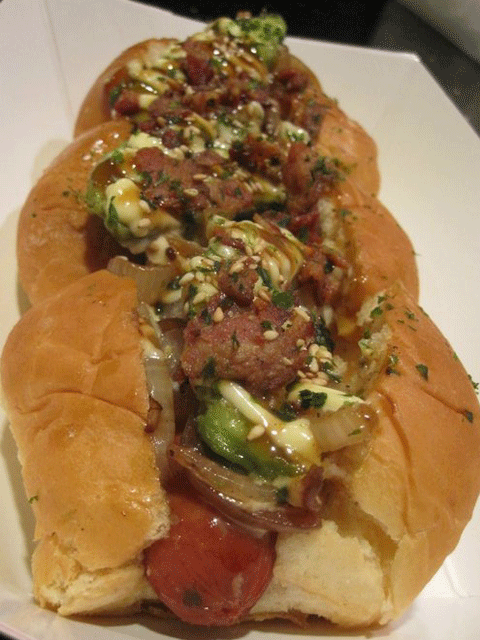 By Dave Lieberman | OCWeekly.com
Watching the rise and fall of the luxe-lonchera craze reminds me a lot of watching the ebb and flow of the housing market. When the housing market takes off, condominiums are the last thing to go up in value. When it tanks, condos are the first thing to lose value.
While LA is still reveling in dozens of new food trucks, we in these fair orange acres have seen a slowdown in the number of trucks opening. The result is that the list of trucks I haven't tried is shrinking and not being added to very quickly.
Dogzilla is not exactly new, but it is one of the few OC trucks that serves meals (as opposed to just ice cream, just cupcakes, etc.) I haven't tried. It was parked at Blackmarket Bakery for its open house this weekend alongside Piaggio On Wheels, and while I love Jose Piaggio's food, it was time to try Dogzilla.
​I'm conflicted. I loved what went into my mouth. The Dogzilla dog was an all-beef wiener topped with grilled onions, bacon, avocado, teriyaki sauce, mayonnaise and furikake (seasoned dried seaweed). It took a couple of bites before I fully grokked what was going on here. It started off cloyingly sweet due to the onions and teriyaki sauce, but then the bacon and furikake came through with a good umami counterpoint. The avocado and mayonnaise worked for that creaminess necessary to a good sandwich.
Two complaints, though: first, the triple slider rolls. Great if you're going to put three of something in a sandwich because then you can split it three ways; this is the perforated-paper theory of food sharing. When you've got a beef monolith inside, though, all it means is that a meaningful, manly bite causes the bread to perforate, so you end up with a mouthful of bread and an embarrassing, protruding sausage.
Second, notice the flavor profile above. See what's missing? Dogzilla could have accomplished that profile flavor without the hot dog, which sort of misses the point of having the tube steak in the first place. It's not that the hot dog wasn't good; it just wasn't necessary to the enjoyment of the sandwich. This became evident when the bread slide alluded to above happened; the sandwich was just as good without the sausage.
​Garlic and furikake fries were actually better than the offerings of some of the dedicated fry trucks. Furikake makes anything savory better, and the garlic was quite sensibly added so that the fries tasted principally of potato, not of garlic. The proffered cheese, a "Parmesan" lookalike, was totally unnecessary; orderers, be aware. For the $3 price, you could have a plain dog, so choose carefully.
Dogzilla's another one of these trucks with ill-thought-out Web presence. Sure, Facebook is still kind of cool (okay, that's stretching it), and Twitter is, of course, indispensable for letting people know where the truck is parked, but there's no website with central information, a menu or even pictures of the food. That last one would be especially helpful when faced with non-standard wiener toppings.
Service was slow. They were not exactly awash in customers, and the wait was long enough (17 minutes from order to food for me) that people headed into the bakery to grab samples from Rachel Klemek and company; this resulted in young people with Dogzilla T-shirts wandering the premises, rapidly cooling food in hand, calling, "Randy? Randy and Ted? Randy and Ted? RANDY AND TED!"
The verdict: I'd eat here if I happened to be in the area or at a clustertruck where Dogzilla was parked, but I wouldn't chase across the county for an opportunity to eat from it. Lest you think I'm damning with faint praise, there are maybe five luxe loncheras in all LA and OC for which I would go careening through traffic.
http://foodthaticook.com/dogzilla-hot-dogs-food-trucks-20.html