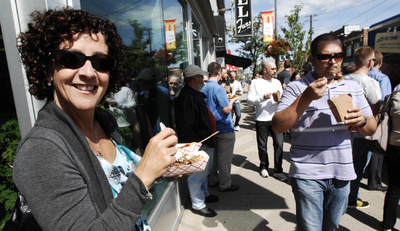 By Ron Albertson | The Hamilton Specator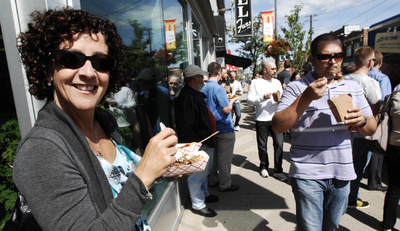 The guys from one of the Dofasco labs were taking a bit of long lunch Friday. They needed to in order to eat their way through the whole of Sew Hungry.
Joe Geric, Mike Zadravec and Colin Bowen were lining up at food truck after food truck to sample the specialties.
"There's quite a buzz about this event," said Geric, adding that the trio intended to try something from every truck.
Sew Hungry was a rally of 10 food trucks from around southern Ontario put on by the Ottawa Street BIA. They were joined by more than a dozen local establishments offering street food, and attracted an estimated 8,000 people to the stretch between Barton Street and Roxborough Avenue.
"We wanted people to come for lunch, to take a break. We couldn't do it on a weekend because all the trucks are booked solid for festivals and the like," said Elisha Proietti, who was in charge of organizing Sew Hungry.
In addition to people who live and work in the area, she arranged for free HSR shuttle buses from McMaster University and Mohawk College.
Food trucks rely on social media to let customers know when and where they will be but that wouldn't work for Janis Burke of Hamilton.
Burke was first in line at the Gorilla Cheese window some 15 minutes before it opened to what had already grown to a crowd of about 24.
"Ordinary grilled cheese I can have at home," she said. "I saw them on TV and wanted to try it, but I don't have a computer to follow them so this was my chance to see them."
Minutes later she was munching on a golden brown Gorilla Sarducci with mozzarella, tomato, red onion and basil, and a Lumberjack with cheddar, Granny Smith apple and bacon.
"First rate, well worth the wait," was her verdict.
Christine Chesebrough brought a group of friends to try the dressed-up poutine from Smoke's Poutinerie. The company's outlet in Hess Village does a roaring business as the bars close, and the truck came from Toronto.
"We're pretty anxious. We were the first ones here," she said as her friends laughed. "We were inspired by the bacon."
Meanwhile, Geric and friends were polishing off pizza from a wood-fired brick oven installed in the side of a truck.
"This is phenomenal," he said of the thin-crust meat and potato pie with hot peppers.
Proietti was encouraged by the turnout and enthusiasm of vendors and visitors. "We'll have to do this again," she said.
http://www.thespec.com/living/food/article/595579–a-food-rally-on-forty-wheels