By wangfood  |   "Wang" Food
It's September, which means it's the back-to-school month. Since I've been missing out a lot of fun events in Montreal during the summer, I definitely can not miss this one: FOOD TRUCKS! I was really excited that I'll be able to visit the ones that are close to the campus.
Super Truck is the first food truck that I visited with my friend Ashley. As I was really excited, I did not know what to expect from the food truck, since they are all mobile restaurants from decent restaurants in Montreal. It only runs from June to September.
The food didn't disappoint me at all! Ashley and I ordered two mains and one with trio (comes with a drink and mac & cheese sticks). We ordered a duck cone salad, which is duck salad wrapped in a cone shape with tortilla. The salad dressing surprised me. It actually tastes a bit asian, but I believe it's because the use of garlic in it. There was a lot of duck meat in there, and the way they wrapped it is an easy to-go meal! The dressing wasn't too wet, which it didn't make a mess while eating it. The pork belly salad was amazing too! The pork belly is really crispy, but not greasy at all! However, the salad contains things that my friend and I don't like, which are coriander and spring onions. Therefore, we ended up finishing the pork belly but not the greens. The mac and cheese sticks from the trio is really good too! Since it was served warm, the cheese in there is melted, and I believe that the sauce is homemade, since I never had it before. The sauce tasted a bit of goat cheese, which matches with the mac and cheese stick!
Since the first food truck experience was so good, I decided to visit another one two days  later! L'assommoir serves mediterranean food. Since my class ended pretty late, so by the time I got there most of the food was sold out, like salmon tartare.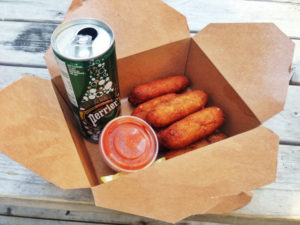 Since salmon tartare was sold out, I ended up ordering the fish cake. I didn't expect that it comes in a fish stick shape. Overall, it wasn't as good as I had expected (or the first time experience was just awesome). The fish cake was really salty, and it's hard to tell that it was made out of fish. However, the dipping sauce was good. It's homemade ketchup! Also, by liking the "streetfoodmtl" Facebook page, you'll  receive a free Perrier!
My friend ordered the lamb meat balls. I didn't try it because I don't eat lamb, but she said it's pretty good. However, I did try the dipping sauce. It's really refreshing with the mint in it.
Overall, this was a really good food trucks experiences! I wish I could try the Au Pied du Cochon one, but it is always so far away. Hopefully I'll get a chance to visit it next year!
If you are interested to visit it before it ends on September 26th, 2013, visit Street Food Montreal for the time and spot of each truck!
http://wangfood.wordpress.com/2013/09/06/mtl-first-food-truck-experience/