By Perry | NewYorkStreetFood.com
I stopped by the Comme Ci Comme Ca truck yesterday, where they were filming for Season 3 of Eat St.
Things have really been coming together for Chef Samir.  After a rough start last year, Comme Ci Comme Ca was just nominated as a Vendy Award Finalist in the Rookie of the Year category, and now they were filming an episode for Season 3 of Eat St.
I have previously filmed two episodes of Eat St – for Season 1 with the Big Gay Ice Cream Truck, and for Season 2 with Bistro Truck, which hasn't aired yet in the US.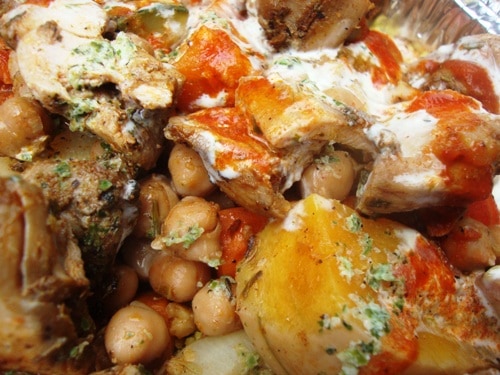 After ordering grilled lemon chicken and vegetables over couscous, I spoke at length about Chef Samir, the Comme Ci Comme Ca truck, and what makes them so special.  Among other things, they have phenomenal grilled meats and veggies, there are 4 different sauces available, and I enjoy getting couscous once in a while instead of rice.
Eat St. filmed a bunch of different people eating and talking about the Comme Ci Comme Ca truck, and I look forward to seeing the episode when it airs.  Of course, we will let you know when that is.
http://newyorkstreetfood.com/21847/filming-for-eat-st-at-the-comme-ci-comme-ca-truck/