By STAFF | Thrillist.com
Good luck finding this truck
Quite possibly the most impossible-to-find food truck in all of Brotherly Lovesville, Street Food Philly's a just-launched, social-media-less restaurant-on-wheels with every type of mobile fare imaginable, but essentially no way to find it. Unless Nic Cage and Jon Voight are with you. And they've got an important historical document with them. And there's a secret lemon-juice-activated invisible map on the back of it.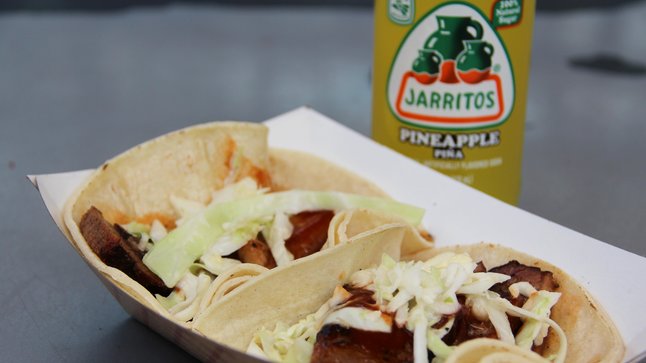 The whole thing's run by a dude and a not-dude with tons of actual kitchen cred (Susanna Foo's, Russet, Parc), who're doing just three constants: hand-cut fries — available well-salted or well-truffled — a lemongrass-braised pork banh mi, and everyone's favorite Korean contribution, the Hyundai Sonata! a pair of braised short rib tacos w/ homemade kimchi. Joining the everyday offerings is a rotating list of regional goodness like "South of the Border" chicken tacos (w/ pico de gallo, crema & lime) and grilled and sliced Southern BBQ Brisket, plus everywhere-in-America goodness like an insane roast turkey jawn covered in mango curry chutney & brie, and a dry-aged burger topped w/ American & garlic-thyme mayo, or what Emeril says whenever OJ helps him make dinner and's all, "Yo E, what time is it?".
Now you're probably thinking, "Dude, this truck sounds amazing. But, like you said, there's no way to track where they're serving, so how in the hell am I going to find them?" Well, luckily they hooked us up with a super-secret location-alerting mailing list that a) is probably way easier to use than that invisible map, and b) means you can totally ditch Nic and Jon.
http://www.thrillist.com/food/philadelphia/street-food-philly_asian_bbq_burgers_sandwiches_street-food_food-trucks