I was down by Union Square around lunch time and decided to stop by Bistro Truck for lunch.   Bistro Truck is one of my favorite places for lunch, and I'm obviously not the only one, as they were a 2010 Vendy Award Finalist in the main category.
I've enjoyed most of the items on the menu, and tend to go for the specials at this point.  I wasn't in the mood for a heavy lunch, so I decided to go for the Crispy Chicken Salad ($8).
The crispy chicken salad is panko breaded chicken breast over arugula and other good lettuces (lettuci?).  There are shredded carrots on the side, as well as green apple slices and golden raisins.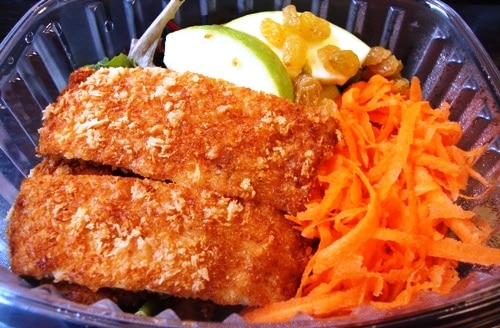 The salad comes with a balsamic vinaigrette dressing that was pretty good.  It wasn't too vinegary, but added some bite to the salad.
I put the dressing on some of the chicken and ate some plain.  The chicken was plenty tasty without the dressing, but was good with it as well.  It's more of a personal taste preference whether you put salad dressing on the chicken or not – it was good both ways.  By the way, there was more chicken under the two pieces you see in the picture above.
The apples were refreshing, and I've always liked golden raisins a lot, too.
Today's Lunch was one of the healthier street food lunches I've eaten, but that doesn't mean it's not tasty.  It was as enjoyable as any of the "junk" street food lunches I've had, which is a nice compliment coming from a street food maven like myself.
http://newyorkstreetfood.com/16010/todays-lunch-crispy-chicken-salad-from-bistro-truck/