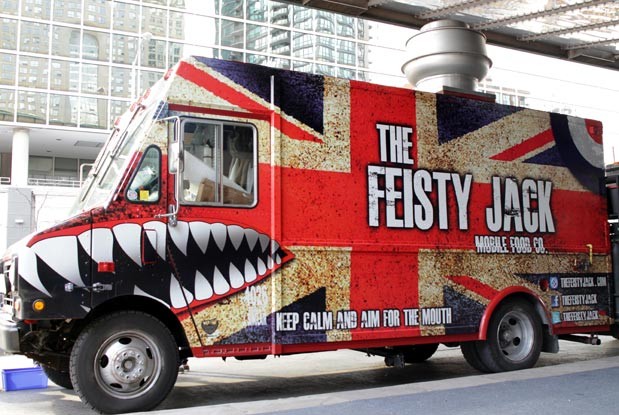 By David Ort | PostCity.com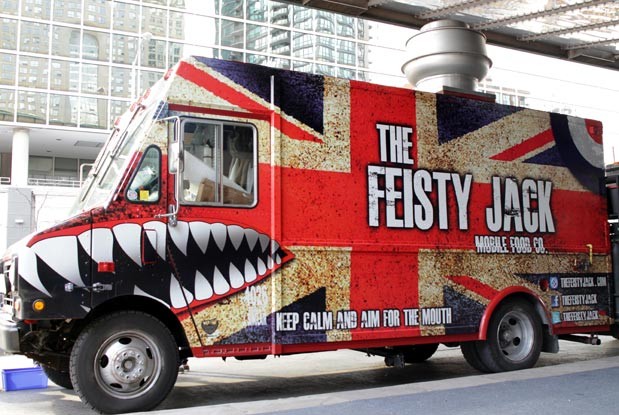 Toronto's food truck industry is still in its adolescence. But for William Randolph, owner and chef of The Feisty Jack, food trucks are a family business. A few decades ago, Randolph's grandfather owned a fleet of over 50 concession trucks in London, England.
Randolph's history with food stems from "working with my family and doing anything I could to help," he says, including making ice cream with his grandfather and peeling potatoes in the back of his uncle's pub. After attending culinary school in London, Randolph started The Feisty Jack catering company in Toronto two years ago. He added a food truck to the business in early October.
For the menu, Randolph wanted to strike a balance between "bringing real classic British food back to life" and incorporating "modern twists on 'gastro fare' that people can afford."
When we were there earlier this week, the menu featured classic fish 'n' chips ($10) with beer-battered cod, but also a less traditional pear and butternut squash soup ($5).
The crowd favourite was chicken tikka masala on chips ($7), a pub mainstay in Britain. The lamb sausages on a bun ($5, or two for $8) — which came with caramelized onions, HP Sauce and cranberry cheddar — ran a close a second, though.
The truck's fries — sorry, chips — are cut fresh on the truck and are fried twice in vegetable oil. The 60-year-old manual fry cutter once belonged to Randolph's grandfather.
Randolph outfitted the truck himself with some help from family. To go with the Union Jack and Royal Air Force theme, an air raid siren was added.
The Feisty Jack also serves house-made desserts from pastry chef Jessica Sinclair, such as sticky toffee pudding ($4) and banoffee pie ($4).
This Saturday, the truck will be in Little Italy at the Mod Club's 10th anniversary party. Otherwise,Twitter is the best place to track down The Feisty Jack.
The Feisty Jack, @TheFeistyJack
http://www.postcity.com/Eat-Shop-Do/Eat/November-2012/First-Look-The-Feisty-Jack-a-British-inspired-food-truck/