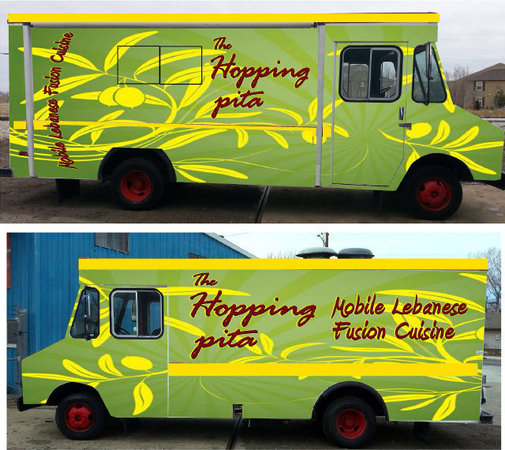 By Denise Neil | Kansas.com
Three bites of food truck news
1 The Hopping Pita – delayed: Melad Stephan's roving Lebanese food truck, which chef Roni Attari will run, has been delayed while a new generator is shipped. The truck should be running soon, Attari said, but he doesn't know when. In the meantime, people who drive through Old Town Square often can see the green-and-yellow truck parked nearby.
2 The Rolling Dough – coming soon:Another food truck will hit Wichita streets – this one serving wood-fired pizzas. Joseph and Cherre Nestelroad plan to open the Rolling Dough within the next six to 12 months, Joseph said. He'll be the dough-maker, she'll be the cook, and they're now searching for a truck that will accommodate a wood-fired oven. The Nestelroads specialize in "fusion"-style pizza, he said, and they like to play around with recipes that mix pizza and comfort food. A recipe for chicken enchilada pizza is among those they're most excited about.
3 Food truck party: The guys of the Flying Stove, who frequently organize food truck parties, have another one in the works. It's scheduled for April 28 at the WaterWalk Pavilion and will feature local truckers such as MMM Sandwiches, Cakeface Bake Shop and B.S. Sandwich Press. R&J Concessions also will be there offering fried delicacies. The event will be from noon to 3 p.m. and will feature live jazz music. Just before the event opens, from 11 a.m. to noon, an outdoor yoga class will be put on by Firefly Yoga Studio. Attendees are asked to bring nonperishable food items, which will qualify them not only for a free drink but also for the yoga class. The Flying Stove guys encourage any other food truckers who are interested in joining in to contact them via their Facebook page.
Quick bites
Food at the Winefest
The Midwest Winefest's Grand Tasting is Saturday, and while it's mostly about the drink, it also features a whole lot of food. Stationed throughout the hall will be 19 different restaurants, food vendors and caterers, including new participants Bocconcini Italian Eatery and Empire Catering. Among the other vendors on site will be favorites such as Abuelo's, Granite City, Newport Grill, P.F. Chang's China Bistro, Sweet Basil, Redrock Canyon Grill and more. The Grand Tasting is from 6 to 9 p.m. at the Century II Exhibition Hall, 225 W. Douglas. Tickets are $60 at the door or in advance at 316-219-4849, at the Century II box office or at www.wichitatix.com. To see a full list of the wine and food that will be served, visit www.midwestwinefest.com.