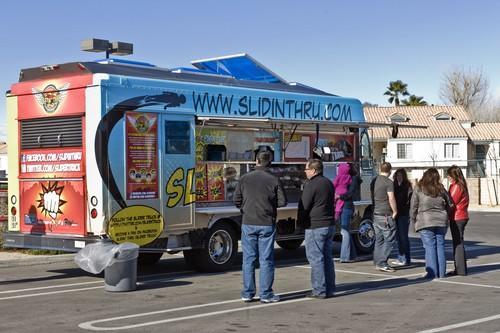 By Benjamin Spillman | LAS VEGAS REVIEW-JOURNAL
Trendy food trucks that recently burst onto the Las Vegas dining scene could be on a collision course with city regulators if critics from the downtown Arts District get their way.
There's a move afoot to slap new regulations on mobile food vendors some say are poaching business from local restaurants.
Some of the ideas include creating buffer zones of up to 1,500 feet between food trucks and existing restaurants or festivals and strengthening requirements on food truck owners to collect trash their customers leave behind.
"They are poaching on our events, and they are not providing any cleanup, insurance, anything," said Wes Isbutt, owner of the Las Vegas Arts Factory.
He said food trucks parked so close to his Bar + Bistro restaurant during the most recent First Friday that customers ate meals in his dining area that they bought from a truck outside.
"It is a bitch when someone walks literally 30 feet from my front door, buys something and sits and eats it," Isbutt said.
Food truck owners, however, defend their right to do business in the Arts District and elsewhere and say criticism comes in part from unfamiliarity with their businesses, which only began to flourish in their current form in the valley within the past year.
"It mostly comes from a point of envy," said Ric Guerrero, owner of the Slidin' Thru truck, which has attracted more than 8,000 "likes" on Facebook and has more than 6,000 followers on Twitter, platforms that allow fans to follow the truck on the Internet and show up for meals when it is close by.
Guerrero said restaurant owners think, "If that food truck wasn't there, then all those people would be eating in my restaurant."
NEW REGULATIONS SUGGESTED
Although it hasn't yet risen to the level of the City Council, the movement for new regulations on food trucks has already caught the attention of some city officials.
During a recent meeting of the City Council's Recommending Committee, Dick Geyer, president of 18b The Las Vegas Arts District neighborhood association, raised the issue during a discussion of an unrelated food truck bill.
"They become free riders, or poachers," Geyer said of the food trucks.
Geyer sits on the board of Whirlygig Inc., a nonprofit group that organizes First Friday gatherings in the Arts District.
"They pull up without any of the licensing and the costs and expenses of a fixed location," he told the committee.
The issue came to the fore at the most recent First Friday, which because of a two-month hiatus by Whirlygig was the first of the monthly street events in years to not have an enclosed street vending area.
As a result, food trucks like Slidin' Thru set up shop in a parking lot near the Arts Factory. That upset Isbutt who, in addition to his regular restaurant and bar permits, said he gets permits and licenses to do business outside during First Friday.
"I have to get those permits, and I have to pay those fees," Isbutt said. "I want a fair playing field."
Some proposals Geyer suggested included a buffer zone of up to 1,500 feet between food trucks and restaurants and stricter requirements for parking to ensure owners of parking lots and vacant property have given permission before food trucks can set up shop on the land.
"People should not be able to park on somebody else's property and do business there," Geyer said.
Ward 3 Councilman Bob Coffin, whose district includes the Arts District, had a mixed reaction.
Coffin said, "It makes sense to try to think about it," but he worried that any attempt at such regulations could go too far.
"Where does it stop?" Coffin said. "You can have six restaurants lined up next to each other; there's nothing to protect one restaurant from another."
NEW BREED OF FOOD TRUCKS
Food trucks aren't entirely new to the Las Vegas Valley.
For decades they have been a ubiquitous presence at construction sites, fairs and festivals.
What is new is a trendier brand of food trucks that have popped up since 2010 when Slidin' Thru came to the scene.
The new breed of trucks attract large followings online and offer higher quality food than the type of grub that has earned traditional trucks pejorative nicknames like "roach coach" or "meat wagon."
Las Vegas is part of a broader, national trend of fancy food trucks that started in recent years in larger cities such as New York and Los Angeles.
Brock Radke, who blogs about food in Las Vegas at www.BrockRadke.com, called the food truck crowd "its own little culture.
"It is kind of like a block party and not just getting a dinner," Radke said.
Radke, who helps organize Food Truck Throwdown and has attended Vegas Streats, two food-truck events, said though food truck owners and restaurant owners have clashed in some instances, there are other examples of businesses working together to draw crowds.
Vegas Streats is held at the El Cortez on Fremont Street, which has its own restaurants inside.
"For as many (clashes) there have been an equal number of businesses willing to host these trucks because they are going to bring a few hundred people … to that area," Radke said.
RULES, FEES FOR TRUCKS TOO
As for licensing, Guerrero said food trucks have their own share of government bureaucracy to handle.
Because the trucks are mobile, they need a business license in every community where they operate.
The Southern Nevada Health District also regulates trucks for health and safety. The trucks need health permits, just like restaurants. And workers need to acquire health cards to handle food. They also are required to have a trash receptacle.
Parking also comes with headaches.
One rule states the trucks can park for only 30 minutes at a time, even if it is on private property
That rule, however, varies by municipality as to how far and for how long the trucks need to move to be in compliance and isn't widely enforced.
"The health department hasn't fought it too much. We're mostly concerned that the food is safe," said Jonathan Dalton, an environmental health specialist for the health district. "We're not going to come search them out and tell them to move unless someone has filed a complaint."
Dalton said the trucks can stay longer with a special events permit, which according to the health district website costs $464 for anything less than six days.
"Just as any other business, we have huge overhead and expenses," Guerrero said. "We need to make money and provide a service."
At the most recent First Friday, Guerrero said he got permission from management at the Artifice lounge, an Arts District bar that doesn't serve food, to set up shop in the parking area.
He said he typically looks for locations that won't encroach on existing restaurants.
"We always try to find parking lots without any restaurants. We know that is our best way of not having any problems," Guerrero said.
Guerrero added that he would rather work cooperatively with the Arts Factory's Bar + Bistro and other restaurants than be drawn into disputes.
"I don't want to put a magnifying glass on a small problem. If we take one day to collaborate with a business and share our following and our business with them, it is only going to help their business in the end."
http://www.lvrj.com/news/critics-want-food-trucks-to-move-on-127509578.html