Mobile food service has been around for a long time, 49 years to be exact (according to Wikipedia!).  These vehicles used to be known as "Roach Coaches."  We've all seen them, the diamond back silver boxed vehicles that traditionally set up shop at different job sites on a daily basis.  They would serve lunch to the employees, ranging from premade meals to your typical vending machine items.
Enter 2010.  Entrepreneurs are creating business models around mobile food and established brands are also getting in on the game due to the increased opportunity to sell more!  One key element to a successful mobile food unit is the vehicle wrap.  Vehicle wraps draw attention!  When it comes to a mobile food unit, drawing attention & letting everyone know you're there is kind of the goal, right?  Not only will vehicle wraps work for you on-site, but they'll also advertise your business when the vehicle is in motion!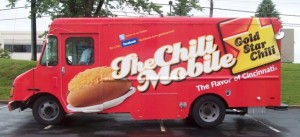 Over the past month, three vehicle wraps have been produced for mobile food units in Cincinnati alone.  Gold Star Chili got the ball rolling when they purchased a new vehicle and a new wrap and created the Chilimobile.  "Gold Star is a neighborhood chili parlor and the Chilimobile literally and figuratively lets us take our branding message to the streets of the communities we serve" said Charlie Howard, Director of Marketing for Gold Star Chili.  Gold Star's wrapped Chilimobile will be used for: event marketing, philanthropic endeavors, a mobile lunch route, and for catering!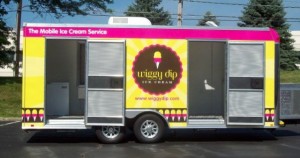 The other two vehicle wraps were for mobile ice cream units.  Mobile Cold Stone Creamery wrapped a box truck while Wiggy Dip wrapped a trailer that serves as a parlor.  This parlor serves up a unique ice cream experience as consumers walk through (as opposed to up to) their trailer!
What's the one marketing piece all three of these business models have in common?  A vehicle wrap!