By Bob | LonelyPlanet.com
Most visitors to LA are shocked by the vastness of the city and how complicated it can be to get from one "must-see" location to the next.  Everything gets more complicated when a must-do activity moves around, and I would say without hesitation that eating at a food truck is a must-do activity when in Los Angeles.  However, if you aren't familiar with LA, picking and finding a truck can be almost as much of a challenge as figuring out how to pronounce Sepulveda (Se-pul-va-da).
Well Don't Panic, here is a list of some of the top trucks working in LA today and how to find them or any other truck that's roaming the streets.
Which Trucks to Try
First off, use this list as a point of reference.  If you like french fries, don't pass up of The Frysmith just because it's not on this list.  I've had great food at trucks I've never heard of, but I'd be a liar if I said I didn't hit up all the highly recommended trucks before I ventured out into the unknown. So here are a few recommendations, and let me know if you have a favorite that I should add.
Now these are clearly just a small drop into the huge food truck bucket.  You can literally find any type of food you are looking for on a truck in LA, I once tried a pig bladder on french fries.  Don't feel limited when making your choice.
How to Chase Down a Truck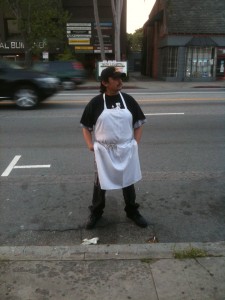 Location usually makes up my mind about what truck I'm going to try, but here's where you have to decide if you are going to hunt down a specific truck or if you want to find something parked around you.
The essential tool for finding a food truck is Twitter.  While expected locations, schedules, and calendars can be found on each truck's website, the most up-to-date information is always posted onto their Twitter accounts.  Let me explain, food  trucking isn't a science, it's an art, and, being an art, means there's room for adjustment in the plans.  Sometimes food trucks have problems and have to change their location, arrive later than expected, cancel appearances, or even close early.  While these situations don't occur too often, it's best to check out your desired truck's Twitter page before heading out just to make sure everything is still on track.
Since the food truck craze began, several sites have popped up listing the location of many food trucks on one page.  These sites make it easy to find out what's around you, and are kept pretty up-to-date by linking to each truck's twitter stream.  There are two different takes on these location amalgamating sites.
First off and easiest to use, sites like Roaming Hunger.com and Trux Map.com post many present food truck locations on a map, making it easy to see what's in your area.  Additionally, users can input their address and find out which food trucks are around them (which is helpful if someone is on the fringe of LA).  Also, both of these sites allow users to see what trucks will be opening later in the day via a clickable option.  One important note on both of the sites listed above, they don't include every truck that is currently open.  If you don't see what you're looking for, check out the individual truck's website or twitter feed.
Alternately, sites like Find LA Food Trucks.com list the actual twitter feed of many food trucks.  While this isn't as simple as dots on a map, this feed list allows users to see a number of trucks that are available in LA and find ones in their area by searching individual feeds.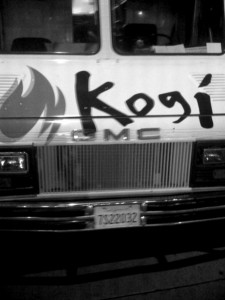 There are a few places in LA which are known to be very popular food truck stops.  Most of the places I am going to list are used mainly during lunch, so don't plan on dropping by in the evening on the off chance you might find a truck still lurking around.  The best time to try these spots in 12pm – 3pm, but as always, check the current food truck maps if you are going to be traveling out of your way.
Universal Studios – Well, not Universal Studios exactly, but down the hill and across the street is South Weddington Park, just off Lankershim Boulevard and Valleyheart Drive.  This park is located behind the parking lot for the LA subway and is unknown to many Angelinos, but lunchtime during the week usually brings a few trucks to this location.  It's really not a far walk at all from Universal Studios, and the food is cheaper and more unique than the food in the park. MTV Network in Santa Monica – I have yet to be at MTV Network around lunchtime without finding anywhere from a couple trucks to a dozen.  The trucks usually line up on Pennsylvania Avenue and 26th Street, and, like I mentioned, are mainly there for lunch. 3rd Street Prominade, Santa Monica – This strip is a bit more hit-or-miss than the other locations.  There is usually at least one truck parked on a side street.  If you are there already, it's worth taking a look, otherwise, scope out a map before you go to make sure you'll find a truck.
Festivals and Food Truck Gatherings
Most festivals or events in LA have a descent turn out of the best food trucks.  However, be wary of hitting up some of the food truck specific events.  Usually the turn out way out numbers the available trucks and you'll get stuck standing in line for way way too long for the experience to still be classified as fun.  Especially if you're wanting to try one of the well known trucks (ie the Grilled Cheese Truck), it's best to hunt them down in the wild or be prepared to wait, sometimes for more than an hour.
Here are some non-food truck specific events, that are known to have a good turn out of food trucks:
First Friday at Abbot Kinney – Happening on the first Friday of the month from 6-10pm, Abbot Kinney stays open late for shopping, art, and socializing.  This is a really cool event and if you haven't been to Abbot Kinney, you should definitely make a  stop.  Also, several food trucks park their wheels and fire their grills, which makes it a great way to sample from a few trucks through the night. Melrose Night – Happening on the first Thursday of every month on Melrose Avenue between N. Ogden St. and Stanley Avenue, stores stay open (6pm-10pm) with special deals and sales.  This event is also marketed as a food truck event and there is usually a great turn out of some of the better known trucks. DTLA Art Walk- This free get together showcases local artists the second Thursday of every month.
A good way to keep track of food truck events or festivals is to follow twitter accounts, such as Find LA Food Trucks.  They'll usually tweet about food truck gatherings in the city.
Do you have a favorite food truck in LA?  Any tips on how to make a food truck trip the best it can be?
http://www.lonelyplanet.com/travelblogs/933/111651/Don%E2%80%99t+Panic%3A+Food+Truck+Dining+in+LA?destId=361824