By Elina Shatkin Nov. 2010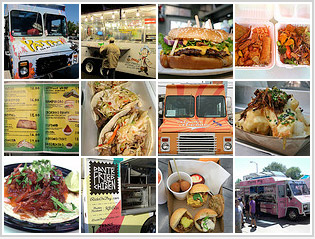 Not so long ago, there was a time when finding a Filipino food truck wasn't as easy as checking your Twitter feed and choosing between three different versions of lumpia or adobo. That was the age of B.K. (Before Kogi), before we realized anything could be put into a taco: duck confit, Turkish sausage, another taco.
Kogi BBQ has achieved phenomenal success, not merely as a small business but as a new paradigm for the food industry. The essence of Kogi is cultural and culinary cross-pollination, a fluid melding of street and high culture. It's a savvy business model during tough economic times for both ends of the business model — truck owner and customer.
Welcome to the year 2 A.K. (After Kogi), which you may know as 2010. When Kogi celebrates its second anniversary on Nov. 20, it will be in a vastly changed landscape, one that is simultaneously more hostile and more welcoming, for food trucks.
In the two years since Kogi launched, a legion of imitators has followed in its tire tracks. Los Angeles and Orange Counties now boast nearly 200 luxe loncheros and their numbers have grown exponentially.
When Shawna Dawson organized the LA Street Food Fest in February 2009, she was looking for 30 high-quality vendors. By the time she organized the LA Food Festival (comprised of trucks, caterers and restaurants) in July, she sent out invitations to more than 100 vendors. She's currently aware of 190 nouveau food trucks and has no doubt there are more.
"As we close out this year and go into next year, I think we will continue to see some growth," she says. "But I think we're also going to see a shakeout. There will definitely be some attrition. It will be very interesting to see who's left next year."
This new breed of trucks represents only a fraction of the city's total number of rolling eateries. No one knows exactly how many they number, but Erin Glenn of Asociación de Loncheros, an advocacy group that represents about 300 traditional taco trucks, estimates there are 2,000 traditional taco trucks roaming L.A. — and that may be a conservative figure.
"The street food industry is definitely having a renaissance here in Los Angeles," Glenn says.
Though the "nouveau food trucks" have received the lion's share of media attention, all taco trucks have suffered from the backlash.
Truck vs. Truck
Engaging in fistfights, slashing tires, calling the police or health department on competitors — food truck turf wars are nothing new.
"In the food truck industry? I am shocked. I've never heard of such a thing," says Morris Appel with mock outrage. He and business partner Josh Hiller leased Kogi their first truck then founded Road Stoves, a company that specializes in launching nouveau food trucks. Appel is an industry lifer, branching Road Stoves out of the food truck leasing and commissary business his parents, Herman and Esther, have run for decades.
"Lunch trucks that have been parking in spots for 15 years are now getting hassled," Appel says. With more trucks launching every week, the competition will only get uglier.
Even with its vast surface area, Los Angeles doesn't have an unlimited number of "target-rich environments." Food trucks need pedestrians. Bars, shopping districts, festivals, street fairs. Large office parks that disgorge hundreds, if not thousands, of hungry workers every lunch hour.
"Building a route" is a process that takes years. You have to find locations where you can profitably park, figure out the best days and times to park there, learn the permitting and zoning restrictions of a municipality and ingratiate yourself into a neighborhood, so you're a welcome guest not an interloper. Appel knows the process well. He spent four-and-a-half years on a truck, doing just that before he moved into management at the family business. It's a hustler's game, and not everyone's good at it. As the trucks cluster in the same handful of locations, the competition gets tougher.
It's impossible to guess the precise saturation point for these luxe loncheros in Los Angeles, but more of them will go out of business. Fresser's, Asian Soul Kitchen, Reggae Jerk Chicken and the Kassava Truck have already run out of gas.
Truck vs. Restaurant
It didn't take long for brick-and-mortar businesses to complain about the dozens of trucks routinely parked at various hot spots: Wilshire Blvd. in the Miracle Mile district, downtown L.A. on Artwalk Thursdays and Abbot-Kinney on First Fridays. The L.A. City Council, led by District 4 Councilman Tom LaBonge, made ominous noises about limiting the locations and ways in which food trucks do business.
This agenda seems grossly out of touch with the spirit of the times. The stretch of Wilshire Blvd. between Fairfax and La Brea is no culinary oasis. Years ago, I worked at 5670 Wilshire, the hub of the current conflict. The lunch options within walking distance were limited to Marie Callendar's, Baja Fresh, IHOP, Koo Koo Roo (since closed) a middling pizzeria, a glutinous Chinese restaurant and a series of fast-casual eateries destined for failure. You could walk a few blocks west to LACMA for lovely ambiance and boring cafe fare or a few blocks east to the Ralph's salad bar or the only non-corporate eatery in the vicinity, the Black Dog Cafe. When the In 'N Out burger truck began showing up a few times a month, my co-workers and I flocked to it (though they served Lay's potato chips in lieu of fries). Things have improved since then, but not by much. It's easy to see why captive office workers love the new options: chicken wings, kebabs, sushi, gourmet burgers and, of course, tacos.
It's also easy to see why budding entrepreneurs love the food truck business. Taco carts and trucks have long been the province of new immigrants. Nouveau food trucks, like their brethren, have attracted a remarkably high number of minority and female business owners. It's far less expensive way to start a food truck than a restaurant. For brick-and-mortar restaurateurs, that's exactly the problem.
In the past couple of years, the city and the county of Los Angeles have tried to crack down on traditional taco trucks with onerous rules requiring them to move every 30 or 60 minutes. In both cases, a more moneyed, experienced and established constituency (brick-and-mortar restaurateurs) tried to legislate against a less influential one (truck operators). They failed. The restrictions were struck down by the courts.
Watching a civic bureaucracy try to control this roving street culture phenomenon was like watching someone try to run over a mouse with a tank. For food trucks, the battle may have been won but the war continues. It has just shifted to new ground. At heart, this is a class war.
Truck vs. Politician
One thing people rarely note about the Miracle Mile is that at least two traditional food trucks (sandwiches, burgers, sodas) had, for years, quietly worked that corridor without much conflict. The brouhaha began when a horde of new trucks rolled into the area. They were high-profile and, even worse, highly popular.
The brick-and-mortar crowd did what they could to drive them out. They requested stronger parking enforcement (most truck owners factor in parking tickets as a cost of doing business), complained to the health department and even parked junker cars along Wilshire Blvd. to prevent food trucks from finding spots. None of it had a significant impact. The number of trucks continued to grow.
"I think that the situation on Miracle Mile, with 15-20 trucks parking in front of some of the restaurants there, definitely exacerbated some of the problems that we try very hard to keep from exploding," says Glenn of the Asociación. I think that definitely brought up some of these ideas of regulation."
The people who are really driving opposition to food trucks are not restaurant owners but their landlords. The owner of a fast-casual burrito franchise probably won't get a speedy reply when he calls his or her councilman; a powerful real estate developer often will. That's when the juice starts flowing, and the government starts talking about regulations. At one point, the city council floated the idea of outlawing trucks from parking at meters along Wilshire Blvd.
A number of luxe loncheros have organized under the SoCal Mobile Food Vendors Association — over 80, according to the SFMVA website. Led by Matt Geller, the organization has tried to work with local governments to advance trucks' interests. They've gotten bogus tickets rescinded and intervened when they felt the health department was moving too slowly or behaving capriciously. Most importantly, they've kicked up a very public fuss about what could have been an arcane argument over neighborhood parking restrictions.
The larger issues, however, remain unabated. Road Stoves co-founder Appel believes that while groups like the SCMFVA are fighting skirmishes (like those over parking tickets) on the front lines, the real battles are being fought by businessmen in boardrooms. He calls it the choke-chain theory. "It's like a dog leashed up on a chain. He keeps barking and tugging at the chain. He thinks he's getting somewhere," Appel says, "but he's just making the chain tighter."
In mid-October, the Los Angeles County Board of Supervisors approved a plan for the health department to monitor trucks with A through F letter grades, as they already do with L.A.'s non-wheeled restaurants. It also upped the number of mandatory inspections for trucks from once to twice per year. Trucks must file route maps with the county so the health department can conduct surprise inspections. The first phase of the plan begins in mid-November.
"Our members, for the most part, think it's a good thing," Glenn says. "Everyone feels it's going to sort of legitimize the industry and the food that's coming from these trucks. I think it's also going to legitimize some of the legal victories we've had in the past few years."
While these letter grades will legitimize food trucks in a way that the millions of tacos consumed at them could not, the fees to launch and maintain food trucks will
rise. Customers will see prices go up. Some trucks will go out of business because of it — and some of the vagabond spirit of the food truck business will dim.
Do Angelenos and visitors want a loose
r, more organic street culture, something more akin to what you'd find at the tripe carts in Florence or taco tables
in Tijuana? Or do they want something safer, more official, more orderly? The answer depends on what end o
f the choke chain you're on.