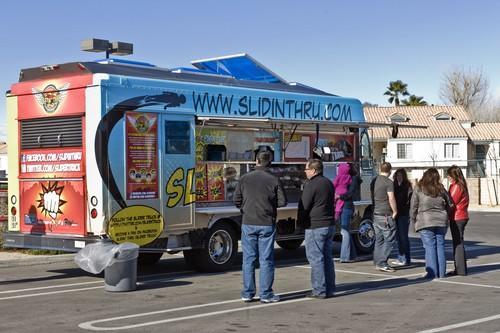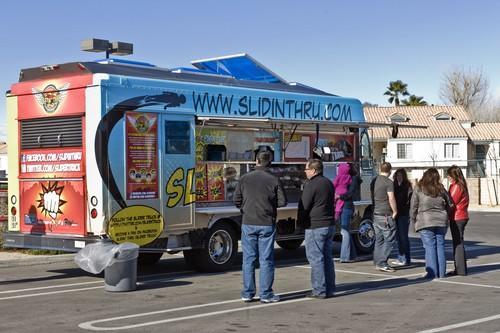 BY CAITLIN MCGARRY
Ric Guerrero learned firsthand the unpredictability of operating a business on wheels when his food truck's carburetor blew on the freeway in the middle of rush-hour traffic last year.
Armed with a culinary school education and a love of tiny gourmet hamburgers, Guerrero launched his mobile food vending business, Slidin' Thru, in March. He hit the streets with a $12,000 truck he found on Craigslist, inspiring rave reviews and long lunch lines in office parks across the valley.
Business grew beyond what his original truck could handle, and after a series of vehicular meltdowns, Guerrero purchased a new truck late last year.
We experienced the range of it: running out of propane in the middle of service with a line of 20 people; our deep fryer going out; the lights going out in the middle of our night services," Guerrero said. "You have to be lighthearted getting into this business. You have to expect the best but prepare for the worst. All the problems, they just make for better stories in the end."
Though launching a mobile business can lead to auto-related headaches, equipment issues are par for the course for any type of business owner, Paradise Mobile Detail owner Jeremy Tippetts said.
"There's always issues with equipment. It's definitely an expense you have to keep in mind because there's always things going wrong," Tippetts said. "It's not necessarily because it's mobile. Whether it's a stand-alone car wash or a mobile car wash, (there are problems with) pressure washers and things like that."
Mobile-business owners say the appeal of low overhead and the ability to go where the customers are more than makes up for equipment malfunctions. David and Laurie Seda drive around the city with their two Cloud 9 Mobile Pet Grooming trucks to primp pets at homes and offices. David Seda said the biggest advantage of being mobile is offering convenience to his regular customers.
"Everybody lives busy lives, and not everybody has the opportunity to take their animals someplace to have them taken care of," Seda said. "And at the majority of storefront groomers, you tend to have to leave your animal there for an extended period of time, which can be stressful on the animals."
Seda said 90 percent of his business comes from of repeat customers. The remaining 10 percent are drawn to Cloud 9 from word-of-mouth, veterinarian recommendations and Internet marketing.
Slidin' Thru also relies on social media to drum up new business. Guerrero lets customers know where the truck will be each day through the business's website, Facebook and Twitter feed, which has more than 4,000 followers, and said he credits social media "110 percent for our success."
"We are an Internet-based business. Without social media, we wouldn't have a business," he said. "As big as we've become in such a short time, we haven't spent one dime on marketing. I don't even have a business card."
For many mobile businesses, including Slidin' Thru, Paradise Mobile Detail and Cloud 9, the mobile part is a launchpad for expansion. Guerrero is opening a brick-and-mortar location near McCarran International Airport on Jan. 14, where he will serve a larger variety of sliders. Tippetts and Seda said they, too dream of opening a storefront.
"Some people prefer to go to a physical location," Tippetts said. "Some people like the experience of going to a car wash and sitting there while the car gets washed."
Building on a mobile presence also offers the benefits of brand awareness and a customer base that a business owner can carry to a brick-and-mortar location. Guerrero said he plans to maintain Slidin' Thru's mobile presence while complementing it with his new, 24-hour physical headquarters.
The truck has done a phenomenal job of advertising all around the valley and building that word-of-mouth and that grass-roots feel," Guerrero said. "So many people love the truck and have connected with the truck. I think it has primed people to love what we do next."
Contact reporter Caitlin McGarry at cmcgarry@lvbusinesspress.com