by Perry | NewYorkStreetFood.com
So yesterday I went over to the same spot for lunch on Alameda, and there was another choice to make – Border Grill or Let's Be Frank.
Let's Be Frank looked pretty good. They make their own hot dogs, which are free from a lot of the junk that's in many hot dogs (hormones, nitrates, etc), and they get their meat from farm co-ops.  I really like their philosophy about food.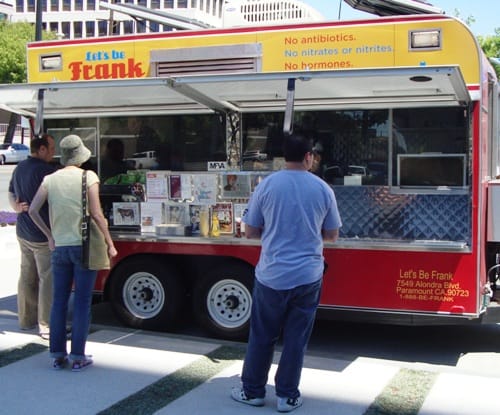 I've heard good things about Border Grill and wanted to try them even before this trip.  They have two restaurants in LA, a food stand in downtown, another restaurant in Vegas and the food truck.   I generally favor the little guy over the big one, but when I saw they had fish tacos, that sealed it.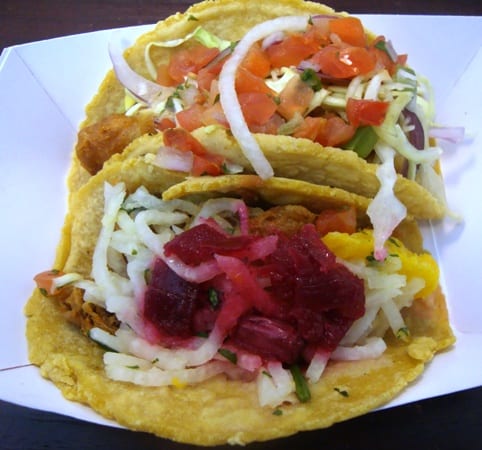 Border Grill also had a longer line, which is often a good indicator of where to eat when it comes to street food.
The Border Grill menu looked pretty interesting, with tacos of carne asada, citrus chicken, Yucatan pork and potato/cheese to choose from.  They also had quesadillas, "cones" and churro tots for dessert.
I ordered a fish taco, a Yucatan pork taco and an order of churro tots ($3 for each).  Unfortunately, they were out of the churro tots, which looked amazing.  Round balls of dulce de leche infused churros with cinnamon sugar and whipped cream.  I was very disappointed about the churro tots

and didn't order anything in its place, which turned out to be a pretty good thing, as you'll see later.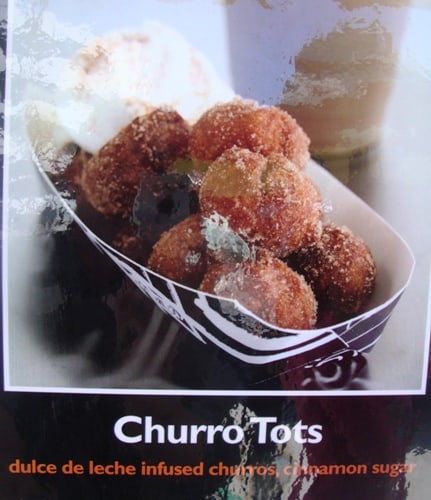 As I was waiting for my food, the guy in front of me got a ceviche cone, which was raw fish marinated in lime juice with ginger, pickled onions and chilis in a tortilla cone. Looked pretty cool.
My friend who got the ceviche cone, if you read this, please leave a comment telling us how it was, and I apologize for forgetting your name.  The cone certainly looked awesome!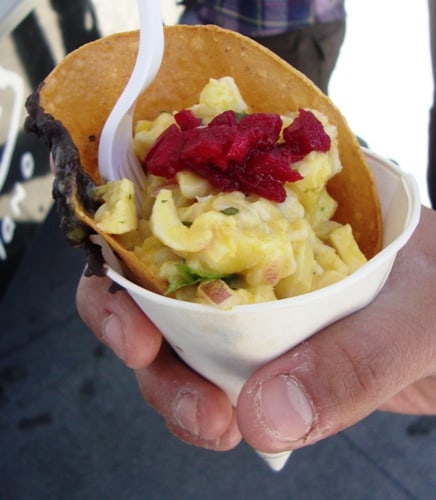 Then my order came, and I realized two tacos might not be enough for lunch without the churro tots.  These were not monster-sized tacos like at Korilla BBQ.  They were normal sized tacos.
That's when I had a brainstorm.  On my way back to the office, I picked up a bratwurst from Let's Be Frank, holding the order of tacos from Border Grill in my hand.  Yes, I felt like a glutton, but just knew that two tacos wouldn't hold me until dinner.  I will write about that bratwurst from Let's Be Frank later.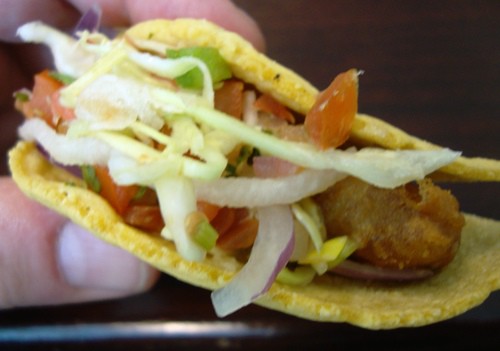 fish taco
First I tried the fish taco, which was a breaded and fried piece of fish on a corn tortilla with red onion, shredded cabbage, diced tomatoes and crema fresca.  The fish taco was decent, but I didn't think it was anything special.  A couple of bites and it was gone.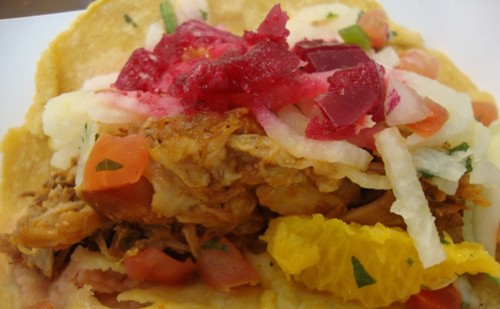 Yucatan pork taco
Then I tried the Yucatan pork taco, and I could see what the fuss was about.  The shredded pork had nice citrus flavor, with an orange salsa, pickled onions, diced tomatoes and beets on top of the pork.  There was even a small piece of orange in the taco for good measure.  Now this was an impressive taco!  There were a lot of flavors going on in there, and I enjoyed every one.
After trying the Yucatan pork taco, I would certainly be up for trying their carne asada, and after seeing what they did with orange and pork, the citrus chicken is definitely on my to-do list.  I always get fish tacos when they are available, but yesterday, the Yucatan pork taco blew it away.
http://newyorkstreetfood.com/17105/nysf-in-la-tacos-from-border-grill/