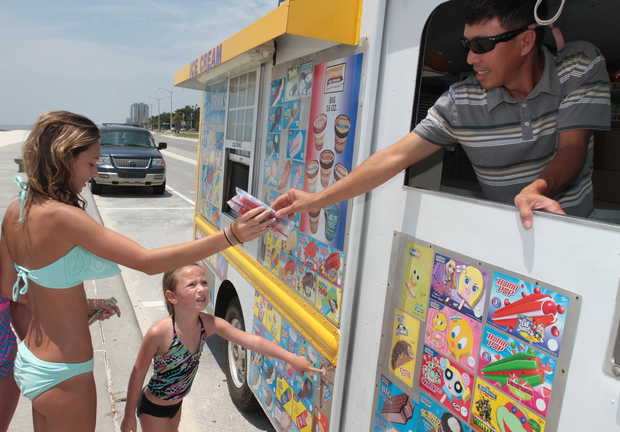 By Karen Nelson  |  Sun Herald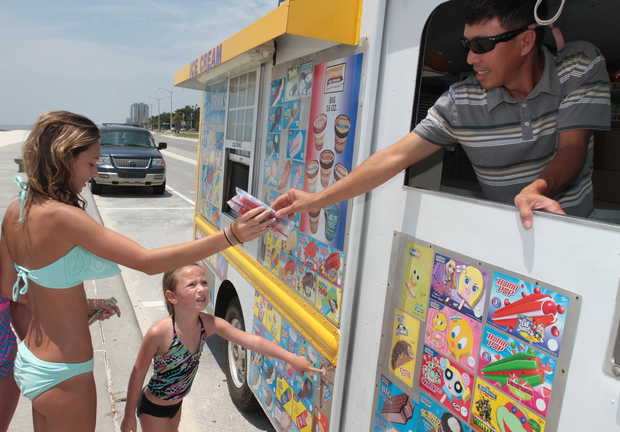 How powerful is the attraction of an ice cream truck?
One mother attested to it recently.
She said she watched her child, along with the others, leave a birthday party in a nearby park to chase the truck.
There was ice cream and cake on the table and they ran after an ice cream truck, digging in their pockets for money, she said.
Ocean Springs aldermen know that obsession and anticipation, triggered by music in the distance.
Alderman Greg Denyer told his fellow aldermen at a meeting in early July that he can remember that feeling as a child in a neighborhood, waiting on an ice cream truck.
So it's time to take a look at how the city can make them legal, aldermen have said, like other cities on the Coast. It's on the table for the Board of Aldermen tonight.
They'll hear recommendations for what seems to be an issue that gets more complicated the more they talk about it.
Planning and Grants Director Carolyn Martin and a staffer, along with City Attorney John Edwards have researched other cities along the Coast and ones of similar size elsewhere and how they handle the issue.
The team has produced 2 1/2 pages of issues for aldermen to consider, including hours of operation, layers of inspections, traffic no-nos, unreasonable noise and vibration, limiting the number permitted in the city and sales tax.
They also want the aldermen to look at trash disposal, limiting the selling distance from a school, allowing them to sell only on streets with a speed limit of 30 mph or less, requiring criminal background checks, a fee for the inspections and background check, whether or not a permit can be transferred, charging trucks based in Ocean Springs less than those coming in from elsewhere, need for health department certification, compliance with food laws, how long a permit will be good for and penalties if any of the rules are broken.
It gets complicated
Alderman Matt McDonnell said, "I want to get it done. I think we should have ice cream trucks. I think we're going over a thumb tack problem with a sledge hammer."
Alderman Chic Cody said, "I think it's going to be good, we'll work it out."
But the more he talked about it, issues arose. He already has people telling him they don't like the noise on their street.
So Cody said, maybe they'll have to play their music "not as loud or not at all."
But that's how they attract customers.
Denyer said the vendors already use common sense when selling on neighborhood streets — serving from the curbside.
"But their objective is to notify people in the neighborhood with loud music," he said. "I'm sure they're waking people up who are on a swing shift, sleeping.
"I'm glad we're going to get some recommendations" for regulation, he said.
Asked to be legal
The issue came up at the beginning of the summer when new and enthusiastic ice cream truck owners Tansy Jones and Rodney Lancaster, Mrs. T's Tasty Treats, went before the board asking for a way to legally sell in the city where there is no license for mobile vending — ice cream or food trucks — other than at festivals.
At the time, Lancaster told the board, "There are 25 million ice cream trucks across the U.S. We seem to be in our own little world without them."
Truth is the city has them. They're just not legal or regulated.
The city has to make a new category for them in the law because they do something that is generally not allowed, Planning Director Martin explained. They sell their goods on public property, the city streets and rights of way.
"That makes them problematic in a legal sense," she said.
Pros and cons
Mayor Connie Moran lives near the beach and listens to their advertising, which travels for blocks. She's listened to more than one truck with competing renditions of "Farmer in the Dell" that go on and on.
But she is open to ideas.
"I wouldn't mind seeing some vendors come to the beach, based on competitive bids, and be inspected by the Health Department and our building officials.
"Right now, there's no oversight," she said, "and no tax benefits. And they're annoying.
"I don't mind them going through the neighborhoods, but make sure they're safe and inspected," she said. "And have them pay some type of fee. Right now, we're not getting anything."
With input from aldermen, the city could craft an ordinance soon, Martin said. The next step would be to advertise it for 15 days and hold a hearing for public comment.