by Melikeyuk | PaperBlog.com

In celebration of the Royal Wedding, the Real Food Festival approached Eat St. with a view to bringing Street Food to the people of London at the Southbank Centre between Friday 29th April and May 2nd.
Gathered below the Royal Festival Hall and in the shadow of the London Eye, foodies gathered to gorge themselves in a feast of Street Food.
Tranquil Scene: 11 am at Street Food Festival before the masses arrive I decided to take myself down there just as the street vendors were preparing for the onslaught at 11am on Bank Holiday Monday. Being the last day of the holiday weekend, I wanted to make sure I would be one of the first to peruse and sample some of the delicious mouth-watering goodies on offer.
Stalls at the Festival included:

Bangra Burger
Whose offerings included: Bhangra Balti Beef Burger,Crazy Lamb Jalfreezi Burger,Veggie Chana Masala and Mighty Samosas.

Roast Hog
Were specialising in spit roast free range pork and lamb marinated in rosemary and garlic served in wraps or rolls.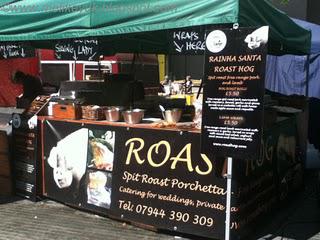 Roast Hog
Crêperie Nicolas
Serving out of their classic Citröen H van, were making crêpes in the authentic Breton way with fine wheat, flour, eggs, milk, butter and vanilla. I noted the special of the day; a crêpe with freshly made Belgian chocolate sauce and toasted coconut. Scrumptious!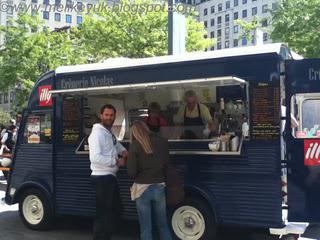 Creperie Nicolas
Choc Star
Whose offerings included Hot Chocolate Float, Super Dark Hi-Energy Truffle and Brownie Fudge Sundae.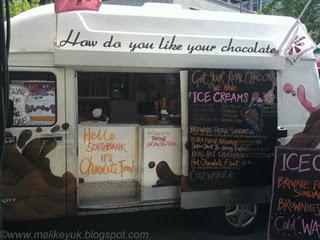 Choc Star
Street Foodie
Were specialising in hot and sweet Korean mini-burgers/sandwiches referred to as Sliders.Fillings contained pork, ginger, chilli and coleslaw.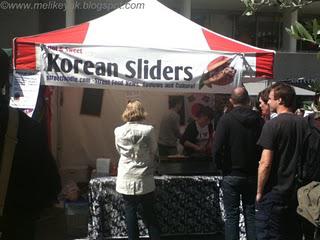 Korean Sliders by Street Foodie
Churros Garcia
Straight from Portobello Road Market were there to provide the very traditional Spanish breakfast of Churros with chocolate.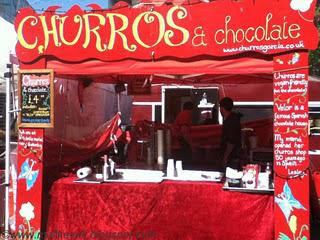 Churros with Chocolate
Lulabelle's
In a very traditional English style were serving vintage afternoon tea out of their 52 year old pink VW campervan!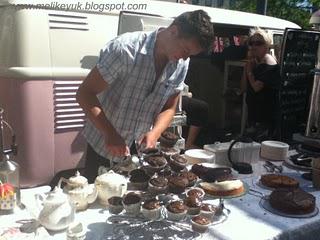 Afternoon Tea Lulabelle Style
The Arabica Food and Spice Company
Had brought a Levatine twist to the festival by serving pickled cucumbers, Baklawa pastries and an assortment of Turkish Delight.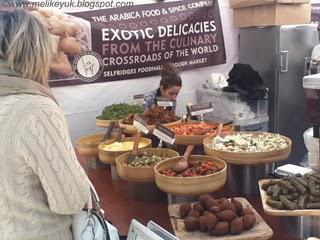 Arabica Food and Spice Company
My Selection:
The Balti Beef Bangra Burger at £6.50. The beef patty was cooked medium rare and placed on a nan bread style flat-bread. Served with mango chutney, chilli sauce, a dollop of minted yoghurt, enveloped in iceberg lettuce, red onion, coriander and tomato. Very tasty! I really like the idea of the burger being served in a flat-bread, makes a nice alternative to the bun which can sometimes leave you feeling blotted.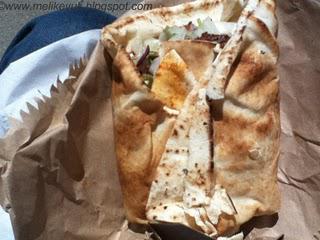 Bhangra Balti Beef Burger before it was devoured!
Washed down with lashings of Fentimans Ginger Beer at £2. Served in a 275 ml bottle, it was sweet and fiery. I would have liked more of it and served at a colder temperature (especially after the eating the spicy burger!)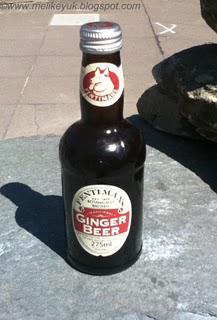 Fentimans Ginger Beer
One hour later and after taking a stroll along the South Bank, I returned to feed my sugar craving! I was met with a hive of activity bathed in sunlight! The air was filled with garlic and char-grilled meat and a String Quartet was playing to the gathering crowds.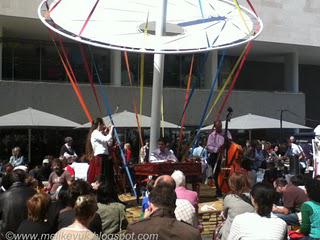 String Quartet adds to the atmosphere
After recently visiting the Greenwich Brewery and being disappointed that their Meantime Chocolate Beer had sold out, I was delighted to see they had a stand abundantly stocked with the aforementioned chilled refreshment. Yipeee! So at £3 a bottle, I indulged!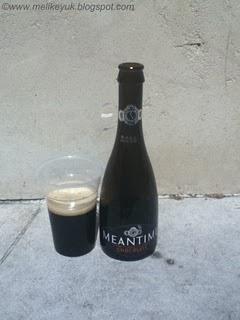 Meantime Chocolate Beer
The beer is served in a 330ml bottle containing 6.5% alcohol and on pouring produces a very light froth. I would say it has a very similar taste to Guinness, which is all tickety-boo as I quite like Guinness but I had expected it to be more of a bold chocolatey flavour, rather than a subtle after-taste. I'll look forward to tasting their Raspberry Wheat Beer the next time.
I concluded my tastings by choosing some of Choc Star's Pride and Joy; Honeycomb ice cream and Raspberry Sorbet at £3.50 for two scoops.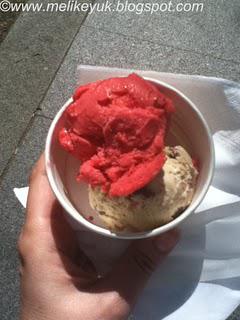 Honeycomb ice cream with Raspberry Sorbet
On first glance, I thought I had been given a chocolate chip ice cream but oh no, memories of my childhood soon came flooding back as I tucked into the "Crunchie-like" flavoured velvety texture with cold pieces of rich crisp milk chocolate coupled with the sharp raspberry notes tingling on my taste buds. Divine!
I had a super time at the Real Street Food Festival, it was a great opportunity to showcase and taste some of Britain's finest Street Food and more importantly, I now know where to find them on a more regular basis! I've even heard that some of them, may be appearing at the Real Food Festival at Earl's Court from 5th-8th May. So you can guess how I will be spending next weekend!