By Smriti Daniel
How do you reinvent the ice cream truck for a world obsessed with health food? David Belanich and his partners chose to start with a little fat free frozen yoghurt – and then they got creative. The 'Joyride' food truck can be spotted on the streets of New York City, and if you get close enough, you'll find something uniquely Sri Lankan on the menu. Jaggery, which David first discovered when he visited the island with his Sri Lankan girlfriend in 2001, is a popular topping that sets their menu apart.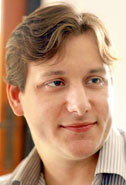 Today, David is back in Sri Lanka, but things are very different from when he was here last. Originally committed to a career in academia, David was pursuing a PhD in political science when he opted out to become an entrepreneur instead. Looking around, he and his brother Adam Belanich and their friend Lev Brie, settled on a food truck.
"There was a big food truck trend at that time…and it took about a year from the idea until we had a truck on the road," says David. Family, friends and a trip to the bank helped them raise the initial amount. Buying a truck off eBay turned out to be the affordable part – it cost them $9000 – it was retrofitting it to meet their needs that hiked the cost up by several times the initial amount. Still, it was worth it, he says.
The truck has been on the road for just over five months, but it's already attracted much attention, having been named in several foodie websites and magazines. Serving fat-free frozen yogurt with fresh and organic fruit and dry toppings, as well as Stumptown roasted gourmet coffee, Joyride also boasts what its owners have dubbed the world's first caffeinated yoghurt.
"It's our own blend – a mixture of organic fat free yoghurt and Greek yoghurt," explains David, adding that all R&D was done on the truck itself. "Our buzzed version tastes a lot like the original. People tend to put flavours into the yoghurt but for us the flavours are in the toppings, we're aiming for a plain tasty base."
Their approach has won them a few loyal fans. The truck parks in a different place every other day, but if you're really determined you can track them down via their twitter feed or through the Street Eats application that allows you to find them on a map. They're near Lincoln Centre on weekends, and draw a very diverse clientele in, says David.
The first year of business has been a demanding one. David is typically at his truck before five a.m. Getting it on the road, collecting his croissants and heading out into the city takes an hour or so, and the rest of the day is spent on his feet. Serving anything between 150 – 200 customers a day has had David acquiring new skills, including how to be a barista. Six part time assistants have helped ease the load ("finally, I'm getting off the truck") but Joyride is still a young business, and its owners are focused on developing their menu and services further. David imagines adding oatmeal and pastries to their selection.
Though a fleet of trucks is still a way away, they hope to start office coffee deliveries this year. "Basically, we're still learning the ropes," he says, adding that he's glad to have the support of his partners – "it would have been impossible to do it alone."