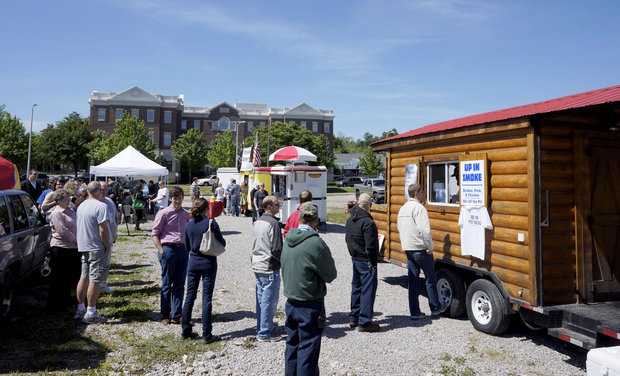 By Beverly Fortune  |  Kentucky.com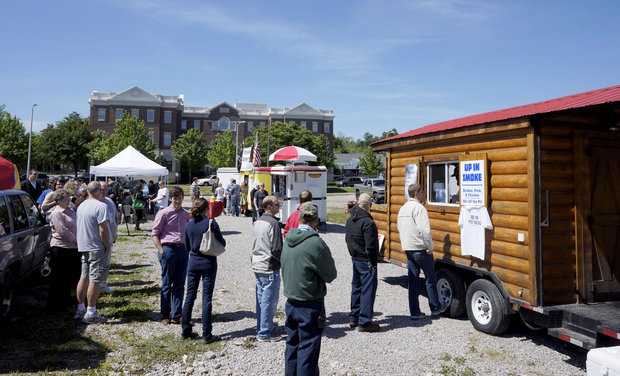 While Lexington may not be quite ready to legalize food trucks on public streets — as other cities have — the mobile vendors appear likely to win a trial run later this month.
The issue remains a contentious one after two years of debate, and a proposal to allow the mobile food vendors on downtown streets had a temporary setback last week when the Lexington Parking Authority said it wanted more time to clarify issues in a proposed new city ordinance.
The parking authority wants to write a policy statement that clearly sets out how food trucks can operate when they are in metered parking spaces. The statement will address boundaries of food truck zones, and the length of time a truck can stay in one metered parking place.
The city ordinance, which would allow a six-month test run for mobile food trucks, still appears to be on track for passage by the Urban County Council.
"This ordinance is brand new, and there are many loose ends that need to be cleaned up," said James Frazier III, parking authority board chairman.
Board member Kenton Ball said the parking authority wanted a single document stating what the parking authority can and can't do in implementing the pilot program.
The pilot program would allow food trucks to stop in metered public parking spaces in designated parts of downtown, and sell food to pedestrians between 7 a.m. and 10 p.m. They could operate between 10 p.m. and 3 a.m. in any on-street parking areas where it is otherwise legal to park, with certain restrictions.
The parking authority discussed setting the maximum time in a metered space at four hours per day, per zone. Food vendors would be required to call the parking authority to say where their trucks would be set up that day. Food trucks could occupy no more than 50 percent of the metered spaces.
Mobile units now generally can operate only on private property, but they can be set up on public streets for special events like Thursday Night Live, Lexington Farmers Market and Fourth of July.
Food trucks have been controversial. "The downtown restaurants have mounted one heck of an offense against us," said mobile vendor Sean Tibbetts.
Jason Cullen, vice president of the Bluegrass Food Truck Association, said trucks fill a niche not covered by the current Lexington dining scene, and support for them is growing. The association sponsors Food Truck Fridays, and more people show up at each event, he said.
In a little over two hours in April, more than 800 people came out. "That shows you the demand for food trucks is there," he said.
Most opposition to mobile food vendors has come from sit-down restaurants, Cullen said. However, the vendors do not view restaurants as competition.
"We're looking for lawyers, or those people running back and forth between offices, that have 15 or 20 minutes and grab something on the go," he said.
Cullen said he has been dealing with the issue of food trucks on public streets for 21/2 years, and is trying to be patient. "We have to keep our eye on the prize," he said.
He looks at the pilot project as a glimmer of hope. "This ordinance is not what we want, or what council member Shevawn Akers proposed, but it is a start," he said. Cullen is owner of Cullen's Carts that sell hotdogs and brats late in the evening.
Akers heads the work group that drafted the food truck proposal.
"You really don't want to seem ungrateful to council when they are trying to allow you go out there on public property, but there are other businesses that freely use public property," Cullen said.
Restaurants set up sidewalk cafes for a fee of $50 a year, he added.
The pilot project has been given first reading by the Urban County Council, and was on track for a second reading at next Thursday night's meeting.
However, The earliest the parking board could act is June 13, its next scheduled meeting.
"These are public meters. What we are doing is taking them away from the public and giving them to a specific segment," Frazier said. "So we want to make sure before we tie up public meters, we have some rational basis to do that."
Akers said she will ask council on Thursday to table the ordinance and take it up on June 20.
She expects council members to approve the pilot project then.
Jake Gibbs, an owner of Alfalfa's restaurant on East Main Street, was at the parking authority's specially called meeting on Wednesday and said he was "appalled at the general proposal" to allow food trucks to park in metered spaces downtown. Gibbs said there is an excess of restaurants, and parking is already at a premium.
Frazier said the parking authority took the matter seriously.
Debbie Long, owner of Dudley's on Short, said allowing trucks to park in metered spaces over the lunch hour means finding a space and getting to a restaurant will be harder for customers. "And that's a problem," she said.
Parking meters is what downtown restaurants "live and die by," Long said.
Long said she'd like to see the trucks continue to operate on private property.
Asked if getting food trucks on public streets in other cities has been such a lengthy process, Tibbetts, executive director of the national Mobile Food Vendors Association, said, "There seems to be two polar opposite groups. Towns like Seattle, Austin and Portland have completely embraced food trucks.
"Or there are places like Lexington, Washington, D.C., and Chicago that are not embracing the trucks," he said. Tibbetts owns Cluck n' Burgers.
In Boston, food trucks operate in neighborhoods as well as downtown, after the Boston City Council approved expansion in 2011.
"There was a desire from brick and mortar restaurants to have food trucks to create a food zone for consumers," says Peter Murphy, program coordinator for food initiatives.
"Food trucks are very popular and in very high demand from consumers," he said.
But Washington is considering whether to restrict areas where food trucks can operate.
In Lexington, the food truck association is urging mobile truck supporters to contact their council representative to express their support, Cullen said.
http://www.kentucky.com/2013/06/01/2662097/lexington-grappling-over-details.html