By STAFF | MobileFoodNews.com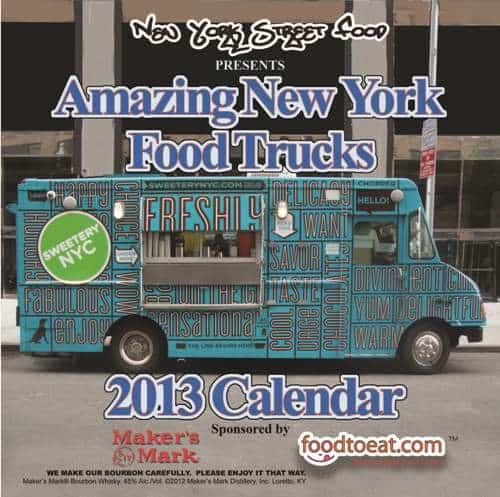 Our friends at New York Street Food came out with their 2nd annual Amazing New York Food Trucks 2013 Calendar, and it's très cool. The calendar is a full-size 12″ x 12″ wall calendar, featuring 12 of the best food trucks in NYC. It includes photos of each truck and their food, details of their cuisine, plus their website, twitter and facebook information.
To keep your spirits up, there's a humorous food quote every month, such as "I am not a glutton. I am an explorer of food – Erma Bombeck". And for those of you who like to bake, every calendar includes a recipe for Sweetery's Maker's Mark® Bourbon Chocolate Cupcakes. Yum!
The calendars make a wonderful holiday gift for your friends, relatives, co-workers, or just get one for yourself. At only $15, the calendar makes an excellent "Secret Santa" gift.
Not only is this a great holiday gift, but you will be helping street vendors with every purchase. $1 from every sale is being donated to the Street Vendor Project, the non-profit organization that works tirelessly to improve the working conditions of NYC street vendors.
For a full description of the calendar, including which food trucks are featured, and how to order them, click here.
Since you've been good enough to read through to the end, New York Street Food was gracious enough to give us 10 copies of the calendar to give away to Mobile Food News readers for the holidays. Simply leave us a comment telling us your favorite NYC food truck, and the first 10 commenters will receive a FREE Amazing NY Food Trucks 2013 Calendar. Easy as pumpkin pie.
If you're not one of the the first 10 to comment, it's still worth ordering the calendar. For $15, you can enjoy the best NYC food trucks throughout all of 2013. You don't even have to go to the New York Street Food website. Just click the button below.