By Richard Johnson | Guardian.co.uk
Meet the street food traders transforming the takeaway – and try some of their recipes
There's a revolution happening in British food, and it's happening on the street. Right now some of the most exciting food is being served out of trailers, carts and vintage vans. In 21st-century Britain, we like the idea that the trappings of a dining room are negotiable. Which is why pop-up restaurants and supper clubs are so popular. We want our dining experience to be relaxed.
The street food revolution grew out of the farmers' market movement, where stalls selling rare breed sausages were sat next to trestle tables heaving with organic rolls. One or two enterprising stallholders realised that the best way to add value to their products was to fry the sausages, stuff them into the rolls and sell them at a premium. A few bright sorts put the tables into vans and got mobile. The street food movement was born.
In a recession, street food makes financial sense. At a time when consumers are cutting back on their restaurant spending, a van serving up fresh and inexpensive lunches and dinners is an easy sell to both public and bank manager. A street food trader can find a van and be ready for business for less than £3,000. And earning – on a good day at Glastonbury – more than £10,000 a day, although £1,000 in a less lucrative pitch is more likely. All cash in hand.
But, like it says in the industry bible (Profitable Mobile Catering by Bob Fox), the street food business isn't right for everyone. You've got to be up early to prep your van. Tyres go flat. And generators die. And that's before you've even left your drive. Then there's the day and night of physical work. It's tough.
But street food is very "now". Street Kitchen's Jun Tanaka is a high-end London restaurant chef – the fact that he wants to leave his kitchen and take his food to the streets shows the buzz surrounding street food. Tom Colicchio – the face of TV's Top Chef in America – has rolled out his 'Wichcraft sandwich carts in San Francisco and Las Vegas, and restaurateur Danny Meyer has turned his Shake Shack into a New York institution. Other big names want in. Large food chains such as Sizzler, Subway and Tasti D-Lite are all going mobile in the US, and Taco Bell is already out there. Their trucks drive to popular venues, tweet about it, and hand out food for free. In Britain, Jamie's Italian has already bought a van. And so has Byron, the burger chain. As with any revolution, there are sure to be casualties…
Richard Johnson is the author of Street Food Revolution (Kyle Books, £14.99) and founder of the British Street Food Awards; britishstreetfood.co.uk
Meatwagon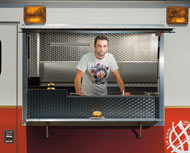 A prime example of the role of social media in the capital's street food boom. The best way to find Yianni Papoutsis, right, and his roaming Meatwagon is by monitoring his Twitter feed. And word of mouth was key to the huge success earlier this year of the Meateasy, his temporary spell in an artfully knackered New Cross pub, complete with cocktail bar, prompted by the theft of the actual meatwagon. There's now a replacement, "Florence", a rejigged American ambulance serving the inspired US-style burgers for which the Meatwagon is justifiably renowned.
Meatwagon will be at The Rye, Peckham, throughout the summer; themeatwagon.co.uk; twitter @meatwagonuk
BBQ Burger
Serves 1
freshly ground chuck steak 160g
salt and pepper a generous pinch
burger bun 1
white onion 1 large – a ½in-thick slice
American-style cheese 2 slices
Heinz ketchup a squirt
French's mustard a similar-sized squirt
dill pickle (not the sweet ones) 2 or 3 slices
Light your charcoal, preferably with a chimney starter rather than chemical fire starters. The coals will need to burn down to cooking temperature. Be patient: this will take a while. When the coals are coated with a white ash (they will glow red in the dark) and all the flames have died down, you're ready to cook.
Pull out a wad of ground chuck steak and form it into a ball with your hands. Squash this down onto a sheet of greaseproof paper so that it forms a burger patty. It should be a bit bigger than the bun to allow for shrinkage during cooking. Place the patty on an oiled and preheated barbecue grill and cover the top side with a healthy dose of salt and pepper. Put the thick slice of onion on the barbecue too.
Meanwhile cut the bun in half and toast the cut sides over the barbecue. This will only take a few seconds. When the bottom of the burger has formed a good brown crust, it will easily lift off the barbecue without sticking. Flip it and cook the other side. It won't take nearly as long. Flip the onion when it starts to brown.
Lay a couple of slices of cheese over the burger while it's on the barbecue. Squirt some ketchup and mustard on the bottom of the bun. Stick a couple of slices of dill pickle on there. Lay the burger onto your bun base and stack the onion on top. Put the bun lid on and serve immediately.
Dishoom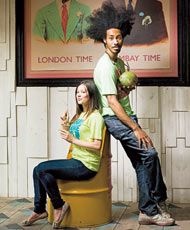 The original Irani cafes were established by Persian immigrants in 19th-century Mumbai but, after enjoying a boom, are now on the wane. Not in London, though, where Dishoom mixes nostalgia for their 20th-century peak with a love of contemporary Mumbai street food.
Its Chowpatty Beach set-up on London's South Bank is another celebration – this time of the bars found along the city's most famous promenade, overlooking the Arabian Sea.
Dishoom Chowpatty Beach Bar is at Queen Elizabeth Hall Terrace, Southbank Centre, London SE1 until 4 October, Monday to Sunday until late; dishoom.com/southbank-pop-up
Chicken Ruby Murray
Serves 2
vegetable oil 50ml
chicken thighs (boneless and cut into 2in cubes) 10
black cardamom pods 2
green cardamom pods 4-5
bay leaves 3-4
cloves 4-5
cinnamon stick 1 (2 inches long)
tomato paste 20g
Kashmiri red chilli pod (alternatively use a normal red chilli) 1 x 10g
onions 3 large, chopped
ginger paste 20g
garlic paste 30g
freshly ground roasted coriander powder (for best results, roast at home yourself) 20g
freshly ground roasted cumin powder (for best results, roast at home yourself) 10g
tomatoes 3 large, chopped
salt (to taste)
coriander 1 sprig, chopped
ginger to serve 1 knob
Heat the oil in a heavy-bottomed pan and add the cardamom pods, bay leaves, cloves, cinnamon stick and chilli until they crackle and release their flavour. Add the chopped onion and sauté until it turns golden brown.
Add ginger and garlic pastes, sauté well and then add the coriander and cumin powder. Continue cooking until the oil separates out and then add the tomatoes. Cook until the mixture and oil completely separates. Add the chicken until cooked through but still tender (10-15 minutes).
Add coriander and serve hot with steamed basmati rice. Garnish with a sprig of coriander and ginger cut into thin strips.
Street Kitchen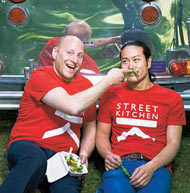 Based in a gleaming Airstream trailer and devoted to utilising entirely sustainable produce, Street Kitchen is the mobile wing of the conservation-minded Food Initiative, established by restaurateur and former environmental scientist Mark Jankel. Partnering with Jun Tanaka, executive chef at Pearl in London's Holborn, means that the food is of the highest quality, and this summer the focus will be on dishes made with sustainable fish such as gurnard and pollock.
Finsbury Avenue Square, Broadgate, Monday to Friday from 27 June to 8 July, and then Tuesday to Thursday from 12 July to 29 September; streetkitchen.co.uk; twitter @streetkitchen
Foil-baked bream with smoked bacon, baby gem lettuce and peas
Serves 4
bream fillet no skin 400g
garlic 2 cloves
white wine 300ml
thyme 1 tbsp, chopped
double cream 250ml
smoked streaky bacon 200g
baby gem lettuce 4 heads
fresh peas 200g, lightly blanched and refreshed
spring onions 2
olive oil
butter 100g
chervil to garnish ¼ bunch
Slice the garlic thinly and add to a pan with the wine and thyme and reduce until about 2 tbsp. Add the cream and reduce until thickened.
Cut the bacon into small strips and fry in a little olive oil until crispy and drain. Cut bream into 4 pieces and season well, cut the baby gem into 6 wedges, removing the root, and slice the spring onion diagonally. In a bowl place the peas, baby gem and spring onion, season, and divide into 4.
Preheat the oven to 160C/gas mark 3. Take a double layer of tin foil (30cm x 40cm), place a smaller-sized piece of greaseproof paper on top and lightly butter. Add one-quarter of your vegetables in the middle of the foil and place the bream on top and finally the bacon on top of the fish. Add 2 tbsp of the wine-garlic cream and close the foil, bringing in the sides to meet in the middle to form a parcel. Repeat three more times.
Bake for 8-12 minutes, until the fish is just flaking.
To serve, place the baby gem in a pile with the onion, place the bream to the side and spoon over the peas, bacon and cooking juices. Garnish with the chervil.
Luardos
Simon Luard, John Bell and Sarah Maxwell's Citroën "Mexivan" is a fixture on Whitecross Street, one of the centres of street food in the capital, and occasionally sighted at music festivals such as Camp Bestival. You'll need to be quick: there's generally quite a queue and Luardos' simple, fresh and value-for-money burritos are popular enough to be sold out after a busy lunchtime.
Luardos is opposite 157 Whitecross Street, London EC1; luardos.co.uk
Luardos Carnitas Burrito with Habanero Hot Sauce and Guacamole
Makes 6
carnitas (see below)
black beans, aka turtle beans about 100g per person
tomato salsa (see below)
habanero hot sauce (see below)
guacamole (see below)
long-grain easy-cook rice about 2 cups (should be cooked so it's fluffy, not wet)
flour tortillas 6, large (12in is best)
grated cheese (we use Monterey Jack; a medium cheddar is good)
fresh coriander a good sprinkle, roughly chopped
iceberg lettuce approximately ½, finely sliced
sour cream a dollop per person
CARNITAS
This is something we've cooked in the van every day for the last 4 years, and this is the recipe we've settled on. At the end of the cooking we add the juices from our cooked chorizo to the pork, which gives it an extra depth. As a substitute you can add a few pieces of chorizo to this dish. We use fresh Spanish chorizo.
pork leg 500g, diced into 1in chunks
onion ½, sliced
fennel ½ bulb, sliced
olive oil for frying 2 tbsp
hot smoked paprika 1 heaped tsp
ground cumin 1 heaped tsp
ground cinnamon ½ tsp, or cinnamon stick 1
fresh chorizo (optional) about 50g
soft brown sugar 1 tsp
dried oregano 2 tbsp
salt and pepper
water 2 cups
Use a decent size saucepan, one you've got a lid for. Fry the onion and fennel slowly in the olive oil until soft.
Add the paprika, cumin and cinnamon and fry for another minute.
Add the pork leg, chorizo, brown sugar, oregano, salt and pepper and water. Give the whole thing a good stir.
Bring to the boil and cook on a simmer for about 2 hours, checking that there's enough cooking liquid.
BLACK BEANS
Ideally, soak the dry beans overnight, drain and boil in fresh water until tender (about an hour once the water's boiling).
Once they're cooked, season with sea salt – if you season them before or during cooking they won't soften up.
Some supermarkets sell black beans in cans, which is a good easy substitute.
TOMATO SALSA (AKA PICO DE GALLO AKA SALSA CRUDA)
This is a very simple fresh salsa, absolutely crucial in the making of a good burrito. It's important to get the balance between sweet (sugar) and sour (lime) right. This will depend slightly on the ripeness of the tomatoes, so a little adjustment is sometimes required.
ripe tomatoes 4, finely diced
Spanish onion ½, finely diced
red onion ½, finely diced
coriander a handful, chopped
olive oil a good drizzle
lime juice from 1
bird's-eye chilli 1 (optional)
caster sugar 2 pinches
sea salt 1 pinch
Mix all the ingredients in a bowl. Give it a taste and add a little more lime/sugar if required.
HABANERO HOT SAUCE
This is a serious sauce. We make it every morning and have to taste it to check the spice level, as it changes depending on the individual chilli. Not only does it deliver the heat that some people seem to need, it also has the flavour of fresh chillies that you don't get in manufactured hot sauce bottles. It's this fresh chilli flavour that you're after – the other ingredients are there just to help bring it out.
fresh habanero or Scotch bonnet chillies 6
olive oil a couple of tbsps
lime juice of ½
caster sugar a pinch
Put all the ingredients in a blender/food processor and blend until completely smooth.
GUACAMOLE
This is a slightly modified version of a recipe I learnt in Mexico at a cookery school in Oaxaca. Over there we used white onions (as they tend to be a lot sweeter than the UK ones), and the crushing and mixing was done with a pestle and mortar. Absolutely crucial is that the avocados are ripe and have that rich, creamy texture. If they're not, then it's probably not worth making.
Hass avocados 4 ripe
olive oil a good drizzle
lime juice of 1
garlic ½ clove, crushed
fresh jalapeño chilli ¼, finely chopped
fresh coriander 6 sprigs, roughly chopped
red onion ½, finely chopped
tomato ½, finely chopped
salt and pepper
Scoop the avocado flesh into a bowl and roughly mash. Mix in the remaining ingredients and season to taste.
DIRECTIONS
Now assemble the burrito.
Soak the black beans overnight.
Make the carnitas.
Drain the black beans and boil.
Make the tomato salsa, habanero hot sauce and guacamole.
Make the rice.
Assemble all the ingredients in a line. For us it goes: cheese, rice, black beans, carnitas, chopped coriander, habanero hot sauce, tomato salsa, guacamole, lettuce and sour cream.
Toast the tortilla in a large frying pan until slightly brown but not crispy (it still needs to be pliable for the wrapping). Add the grated cheese as it's toasting to get it melting.
One by one, add the burrito ingredients, adding as much or as little as you prefer. Once it's all on there, either wrap it up in tin foil or put it as it is on a plate and eat it before it all falls apart – it's probably going to get messy. Best served with a cold beer and a roll of kitchen towel!
The Hackney Lobsta Roll with Thousand Lobsta Island Dressing
Serves 2
beautiful shiny native lobster (Dorset Blue, if possible) 1 x 1kg, cooked, flesh removed and broken into chunks
dressing (see below)
mayonnaise (see below)
pickled samphire to serve (see below)
brioche rolls to serve 2 large hot-dog shaped
FOR THE PICKLED SAMPHIRE
washed samphire 300g
white wine vinegar 400ml
granulated sugar 50g
salt 1 tsp
peppercorns 1 tsp
fennel seeds ½ tsp
jam jars 3
Boil everything except the samphire and the jam jars for 3 minutes, allow to cool, then strain.
Blanch the samphire for 40 seconds in salted rolling, boiling water, plunge into cold water to refresh, drain and allow to air-dry for 10 minutes.
Put the samphire into jars and pour over the cool pickling liquor and seal. Ready after a few days as and when you feel hungry.
FOR THE LOBSTER
Kill the lobster humanely by freezing for 20 minutes, then cook in well-salted water (100g salt per litre) for 8 minutes and then refresh in iced water.
Shell the lobster, keeping the claw meat as whole as possible and set to one side.
FOR THE MAYONNAISE
free-range egg yolks 2 large
white wine vinegar 1 tsp
powdered mustard ½ tsp
salt 1 tsp
rapeseed oil 275ml – or 1:1:1 olive oil, vegetable oil, virgin rapeseed
freshly ground black pepper to taste
Place the egg yolks, vinegar, mustard and salt into a food processor.
Blend to combine, then, with the motor still running, gradually add the oil. Continue until all the oil has been added and the mayonnaise has thickened.
Season with black pepper, a little more salt and lemon juice, if necessary, to taste.
FOR THE THOUSAND LOBSTA ISLAND DRESSING
tomato ketchup 2 tbsp
Worcestershire sauce 1 tsp
brandy 1 tbsp
cayenne pepper ¼ tsp
lemon, ½ juice only
red pepper 1, very finely diced < 5mm
yellow pepper 1, finely diced < 5mm
chives 2 tbsp, sliced < 2mm
dill pickle 1, finely diced < 5mm
Take half of the freshly prepared mayonnaise.
Place it and all the other dressing ingredients into a bowl and mix to combine.
Cut the tail into equal size chunks, keep the claw meat as whole as possible and set aside.
Add the lobster chunks and stir gently until well mixed/combined.
Make the pickled samphire a few days in advance.
To make the dish, firstly prepare the mayonnaise and then incorporate the thousand island ingredients.
Combine the lobster meat with the thousand island dressing to make the "salad".
Split the rolls in half and lightly toast, then butter, then spoon the lobster salad inside, placing the reserved claw meat on top.
Top with pickled samphire and serve.
You'll be left with some mayonnaise for another day – no bad thing.
Best enjoyed with a British coastal view, a beer or a glass of sparkling wine from Kent.
http://www.guardian.co.uk/lifeandstyle/2011/jun/19/street-food-recipes